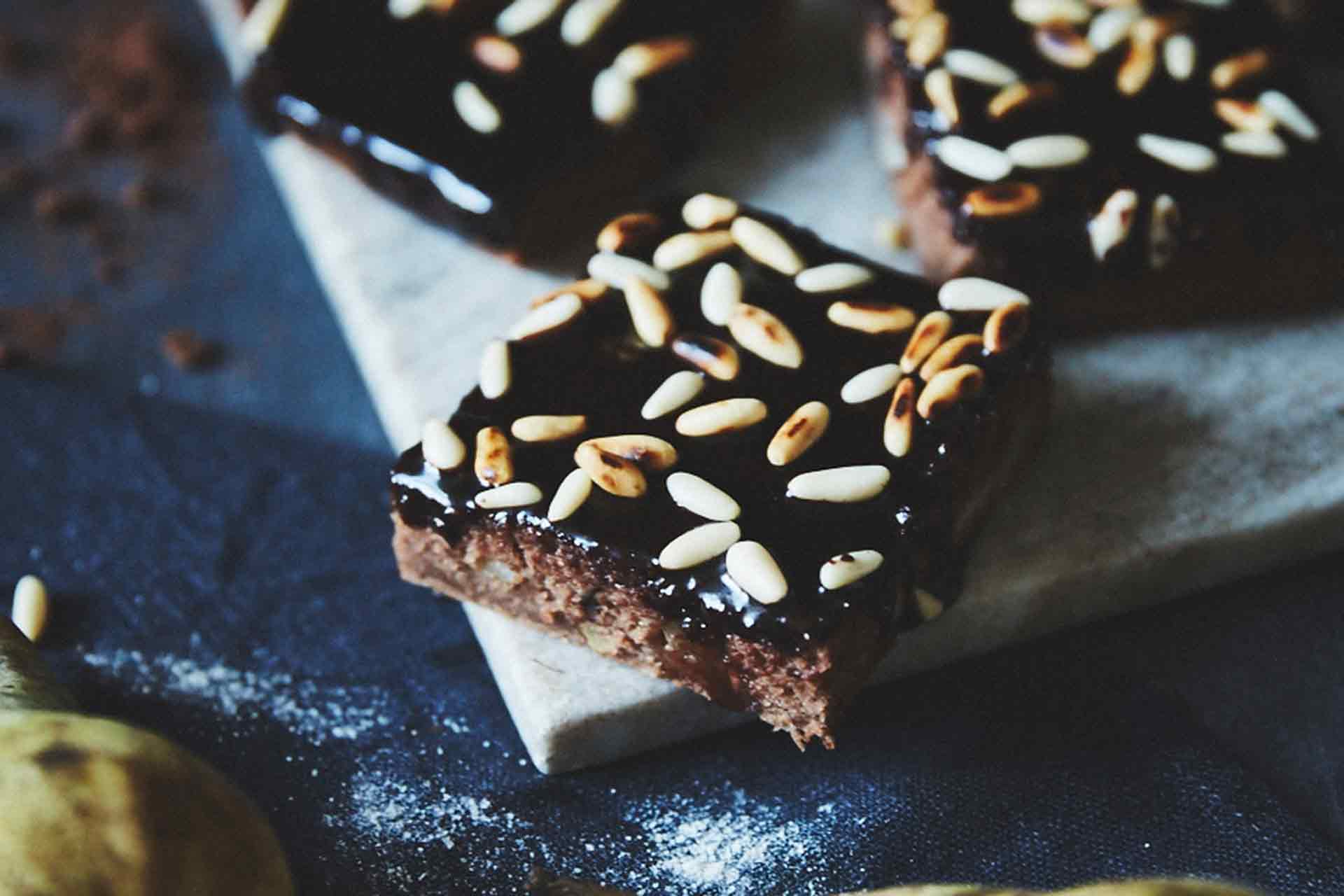 NEFF Recipe: Espresso Chocolate Pear Cake
Makes 1 baking sheet
INGREDIENTS
Batter:
390 gr flour
200 gr durum wheat semolina
4 teaspoons baking powder
50 gr cocoa powder
1 pinch salt
Pulp from 1 vanilla bean
250 gr sugar
6 medium eggs
400 gr melted butter
600 ml room-temperature buttermilk
Filling:
8–10 preserved pear halves
(See recipe) or 1 large
Can of pear halves (460 g drained weight)
Glaze:
100 gr melted butter
200 gr powdered sugar
2 packets Bourbon vanilla sugar
40 gr cocoa powder
8 tablespoons strong espresso
1 tablespoon instant coffee
100 gr pine nuts
PREPARATION
Preheat NEFF oven to 160°C CircoTherm hot air. In a bowl, mix together flour, semolina, cocoa, baking powder, salt, vanilla bean pulp, and sugar. In a second bowl, beat the eggs until foamy and then stir in melted, cooled butter and buttermilk. Gradually fold in the dry ingredients and stir until you have a smooth batter.
Line a baking sheet with parchment paper. Drain and dice the pears and fold them into the batter. Spread the batter onto a baking sheet and bake on shelf level 3 for about 30 minutes.
Remove the cake from the oven. Combine the ingredients for the glaze in a saucepan. Melt over low heat while stirring and pour over the cake. Meanwhile, toast the pine nuts in an ungreased pan until slightly brown and immediately sprinkle onto the glaze. Let the cake cool and then cut into cubes.
RECIPES FROM COOKBOOK AUTHOR CHRISTINA RICHON